Specialty Products of Sanuki City
Jinenjo (Japanese Yams)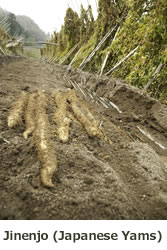 Minamikawa Jinenjo yams are grown in warm, sunny places where the difference between daytime and nighttime temperatures varies greatly, and where the water drains well from the land. These superb quality yams that naturally grow very straight and long, and are full of proteins and minerals, making them very nutritious.
Shido Paulownia Sandals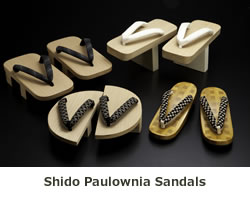 Shido in Sanuki City is an area renowned throughout Japan for its paulownia sandals. Production began here in 1907. The sandals undergo about 40 different processes, at the skilled hands of their craftsmen, to become a product in which you can feel the warm glow of the natural wood touching your skin.
Sanuki Wine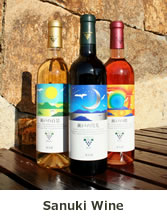 The Sanuki Winery is the first winery to be established in Shikoku, and it looks out on the splendor of the Seto Inland Sea from its location in the Ohkoshi Nature Park. Locally grown grapes are transported tot eh winery where their individual characteristics are brought out to create an excellent wine, with a delicious fragrance and full body.
Uchi-komi Udon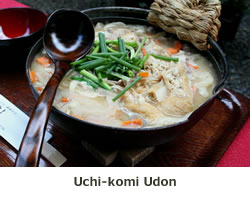 These udon noodles have been produced in Kagawa since long ago, and taste of this "home cooking," simmered with the season's freshest vegetables and cooked with homemade miso, reminds people in Japan of the wonderful taste of traditional food.
Shido Oysters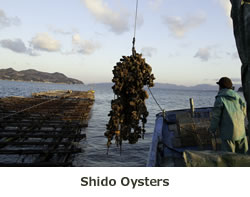 Oysters taken from beautiful Shido Bay are one of Kagawa's largest-volume marine products. They are grilled in their shell on an iron plate, and they are enjoyed during the winter season (November through March).
Shiroshita Sugar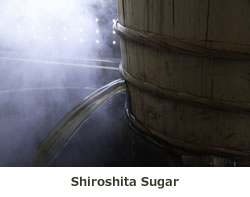 Wasanbon sugar is made from boiling and then naturally cooling sugar cane, and it boasts a tradition of more than 200 years. Shiroshita is a variety of wasanbon that is high in minerals, mildly sweet, and lower calories than the jyouhaku variety.
Kankan Sushi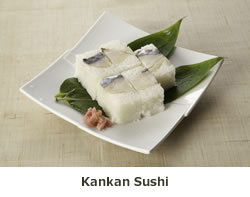 This is a kind of pressed sushi that is made with an extra-long sushi press, and it is often made with sawara (Spanish mackerel) caught from the Seto Inland Sea in Spring. The noise made from the sushi's holding pin being struck by a wooden mallet and then being compressed with a stone press gives it the name, "kankan." Its characteristics are a dark coloring and a long shelf-life of 2 to 3 days, which comes from the fish used in it being heavily coated in salt and vinegar.
Bamboo Crafts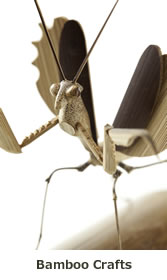 Since long ago, Nagao in Sanuki City has been an area renowned for its bamboo crafts, which since 1975 have been shipped in large quantities from the area. Local volunteers established the "Bamjoy School," for teaching people how to make these bamboo crafts, all as part of a greater movement to make Nagao the "Town of Bamboo." This school teaches people how to make a variety of crafts using bamboo materials. Some of the products made by the school's members are sold at Nagao Michi no Eki.